Exposure to COVID-19 is an inherent risk in any public location in which people are present. The Clark County School District (CCSD) cannot guarantee individuals will not be exposed during attendance at a CCSD event. Per state and local guidelines, individuals are strongly recommended to wear a face mask indoors, stay home when an individual is sick, and practice good hand hygiene.
La exposición al COVID-19 es un riesgo inherente en cualquier lugar público en el que haya personas presentes. El Distrito Escolar del Condado de Clark (CCSD) no puede garantizar que usted no estará expuesto durante su asistencia en un evento/sitio del CCSD. De acuerdo con las directrices estatales y locales, el uso de la mascarilla es altamente recomendado en espacios cerrados, cualquier persona enferma debe permanecer en casa y debe practicar una buena higiene de manos.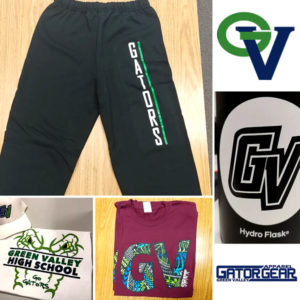 Gator Gear was opened in 2009 by the GVHS Counselors to raise scholarship money for Green Valley students.  In 2013, two Entrepreneurship I, in our CTE program, students created a comprehensive business plan to achieve their goal which was to expand the business program to an independent store front.  In a "Shark Tank" environment, the students presented their concept and a partnership was created!
In 2014 Best, Inc. partnered with the counselors to assume responsibility for marketing and managing the GVHS Student Store, known as Gator Gear. The store is located in the cafeteria and is run by Entrepreneur II class students.
Proceeds for the store continue to benefit the Scholarship Program and students are proud of their efforts as they exceed the expectations of students, staff, teachers, and parents at GVHS. Click below to get your awesome Gator Gear and support our Green Valley students!
The InvestiGator
The InvestiGator is a student run print publication that has garnered both local and national recognition. The newspaper has won Best Newspaper at the annual Las Vegas Review Journal High School Journalism Awards Banquet 20 of the past 25 years, including the 2018-19 school year. The students travel regularly to national conventions and have collected over 25 awards in national write off competitions over the past 10 years. The paper has also been named a Gold Medalist by the Columbia Scholastic Press Association (CSPA) for the 8 of the past 10 years and was awarded an All-American rating in 2013 by the National Scholastic Press Association (NSPA). The paper allows students to write and cover a variety of topics, ranging from school news to controversial opinionated issues. The students also learn how a publication is managed and ran, as the club's organization mimics an actual real world publication company from the annual selection of an Editorial Staff down to the selling of advertising to local businesses.
The club meets as a class everyday. Prospective staff members are encouraged to apply towards the end of each school year for the following year. The paper strives to provide both the school and the Green Valley community with a fair and balanced representation of news and issues affecting students in today's educational environment.